Custom Home Design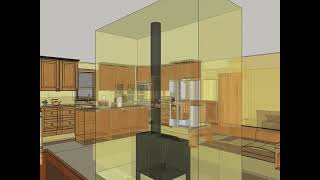 Home Remodel
Streambank Stabilization
Marijuana Factory
Home Remodel
House Transformation
House Renovation
House Renovation
New School
Recording Studio
Custom Home Design

Hazel Park, Michigan | The exitsing house was sold as an abandoned mid-century urban dwelling in Hazel Park Michigan The new owner decided to remove the existing house and brought Tim Nichols Architect to the project to prepare a contemporary design with an open plan on the existing foundation. A new entry at ground level into a turning staircase that connects a finished basement with the open plan first story and the upper level with a dramatic master suite a second bath and two additional bedrooms. The design represents a departure from the homes in the neighborhood—typically modest Detroit bungalows—and brings a level of elegance and a comfortable and inviting venue for family entertaining to the community.

Home Remodel

Southfield, Michigan | A new homeowners asked Tim Nichols Architect to design a fireplace surround using an exquisite onyx stone which had been saving for this purpose. The design project was a success. They asked us to provide design assistance on a new kitchen and dining room. As soon as those were complete, our clients engaged us for a whole house renovation to transform the layout, central stair, a two-car garage and, especially, an in-law suite.

Streambank Stabilization

Southfield, Michigan | A catastrophic streambank erosion event threatened a beautiful residence overlooking the Rouge River basin. The erosion of the riverbank had undermined the drip-lines of 300-year-old white oak trees that sheltered the house overlooking the river. Tim Nichols Architect contacted Pat Durack of the Michigan Department of Environmental Quality who is responsible for the rivers and streams in Southeast Michigan to discuss a solution. Tim and Pat designed a plan that included replacing the soil and redirecting the erosive flows of the river with cross-vanes and a double-tiered boulder retaining wall. Despite regular dramatic storm water flood events this reach of the river has been stabilized for a decade. This is time lapse video of the crew building boulder retaining walls along the Rouge River in Southfield, Michigan.

Marijuana Factory

Morenci, Michigan | The client needed site plan approval quickly for a 20,000 square foot greenhouse in a region of the state which was one of the first areas to authorize industrial production of marijuana in Michigan. They asked Tim Nichols Architect to prepare their site plan and subsequently their building design. Tim worked with the local planning department their consultants and the Hillsdale County Building Department to submit the documents and obtain the approvals rapidly.

House Transformation

Southfield, Michigan | A mid-century ranch home had not been touched in more than 50 years. Situated on a low hill overlooking the Rouge River basin, the overgrown site had the potential for a spectacular renovation. With beautiful views off the water with a lower level that had never been finished, Tim Nichols Architect added a lower level entrance, living room, bedroom, second kitchen and a room lined with Western red cedar to accommodate a large hot tub. We turned the main floor hallway into an arcade to open the views of the surrounding landscape and invite cooling breezes from the river basin through a ventilating skylight above the stair.

House Renovation

Southfield, Michigan | A one level ranch house had multiple rooms separated by narrow halls and doorways and a tiny cramped kitchen. The new owner took a different approach. Our client had returned from Italy, in love with Tuscany where structural masonry building has been the method of choice for centuries. By coincidence, the block walls of the rustic abode lent themselves to her intent for renovation. A new layout added natural light and architectural interest. Opening the plan we let the sky flood the main space with aspects of sunsets and abundant local wildlife. After rounding the edges of walls and beams and coordinating colors and textures, we placed saltillo tiles and a floating hardwood laminate. Red cedar faces on the original cabinets and select remnants of knotty pine trim were kept. These contrast and both complement the dramatic terra cotta cross work.

House Renovation

Beverley Hills, Michigan | My clients had renovated a large ranch house but were frustrated by its plain appearance. While discussing improvements to the exterior, they expressed concern about high energy bills. Icicles grew several feet thick during winter, and the air conditioners ran non-stop during the summer. On closer inspection, we found that multiple ceiling lights were not insulated and had penetrated the ceiling insulation, allowing hot air to escape and melt roof snow. Moreover, because it was poorly ventilated, the attic retained heat which radiated into the living space during the summer. We raised a steeper roof gable above the central part of the house to add architectural interest and create an attic space for proper ventilation. Stripping the existing roof deck below it and applying continuous, foam insulation added significant R-value while effectively sealing the offending can-lights. A thermostatically-controlled fan exhausts the new volume to protect the house from summer heat. Deep skylight shafts soften natural light, and an electric roof window encourages fresh air flow. A reverse gable of structural, cedar timbers celebrates the entrance; and raised-rib, steel roofing adds texture while repelling the western sun. Vertical plywood siding was removed and replaced with 8" horizontal cement boards to accent a contrast of the lower wings of the house with the new central roof. Finally, a distinctive foundation landscape, pathways and contrasting paint colors set the building off from its lush surroundings.

New School

Farmington Hills, Michigan | Steppingstone School purchased a five acre, asphalt site from Holiday Chevrolet. The schedule was a tall order. Fall classes were about to start in just a few months and one of two steel structures—the 5,000 square foot showroom—would have to be completely renovated. The clients' vision for the campus was unique. The resulting, unconventional layout integrates classrooms, common areas and offices. We worked closely with the staff, their builder and parents to prepare and check the design. Construction documents, permitting, renovations and inspections were completed in record time.

Recording Studio

Roseville, Michigan | The architects and engineers at Tim Nichols Architect are thrilled to join legendary recording studio designer Frank Paul Comentale, visionary musician Paco Higden and his gifted team of musicians and recording engineers of Michigan's own Tuxedo Avenue in their project to bring world-class recording studio design to the Detroit market.The 4,000 square foot building on Gratiot Avenue just north of Utica Road was an ideal fit for the new business with a large, double-height space that will serve as the new live room, space for two control rooms of Comentale's signature design and multiple production rooms, artists" lounges, offices and other facilities. The whole project combines state-of-the-art technology with the proven layouts and construction details that have been developed by Comentale over the course of four decades of performing, engineering, designing and building similar studios for a host of blockbuster recording artists all over North America. Frank counts among the many studios to his credit such famous rooms as, Chung King Studios, The Hit Factory, P Diddy's Daddy's House, and Wycliff Jean's Platinum Sound studio. His personal clients include, to name only a few, Glen Frey of the Eagles, Donald Fagan of Steely Dan and José Feliciano, Alicia Keyes, Queen Latifah, Ludachris and Peter Bliss.